Have you ever experienced happy social moments in your life, when you been out & about with your friends partying till late at night and enjoying a few drinks while you at it? If this sounds like you then you most likely have come into a situation where you can't decide whether you have had drank too much alcohol or too little. This dilemma you probably have experience far more than you can probably recall, especially if you drink enjoy drinking alcohol quite frequently. So, if you are looking for a solution that can easily resolve this worry about your Health. Then you will be pleased to know that there is wrist gadget that will do just that and it is called the Proof Wristband
What is the PROOF Wristband?
Proof is the World's 1st Alcohol Tracking Device that will accurately measure and monitor Alcohol intake in your body. This unique gadget is wearable on your wrist through which it keeps track of your how much Alcohol you have drunk, how much more can your body sustain and more. Sounds Surreal, right? It sure is Real and is developed more advance than ever before. With the help of this unique wearable gadget, you can now know when to stop drinking, if you drank too much you can see when the affect dies of, prevent getting stopped by the cop's due to heavy drinking and most importantly manage your health better over the course of time in minimising your Alcohol intake in the future. Interested find out more on what the Proof Wristband can do, then let's have a look at some the key features that brings this wearable gadget to life. Some of the key features of this wrist gadget include the Automatic BAC Tracking, Cartridge Technology and Smart Alerting.
Automatic BAC Tracking Like No Other
Starting with the first key feature of Proof, the blood alcohol content is measured automatically through its advanced BACK tracking functionality. The way in which the device tracks your BAC level, is through its built-in technology that converts alcohol molecules ignited from your skin into electric signals. The readings from these signals are then automatically sent to your smart device (such as iPhone or iPad) paired via Bluetooth to the PROOF device.
Powerful Alcohol Reading enabled through Revolutionary Cartridge Technology
This nicely brings me onto the next key feature which makes this advanced BAC tracking ability possible, and that is the Cartridge System. This unique wearable device uses a disposable cartridge system, which you will simply load into the PROOF wristband and have yourself covered for 12 hours of accurate reading. When using the disposable cartridge system in conjunction with the PROOF wearable device, you are then empowered with the ability to benefit from advanced sensing and real-time update into the PROOF App on your smart device.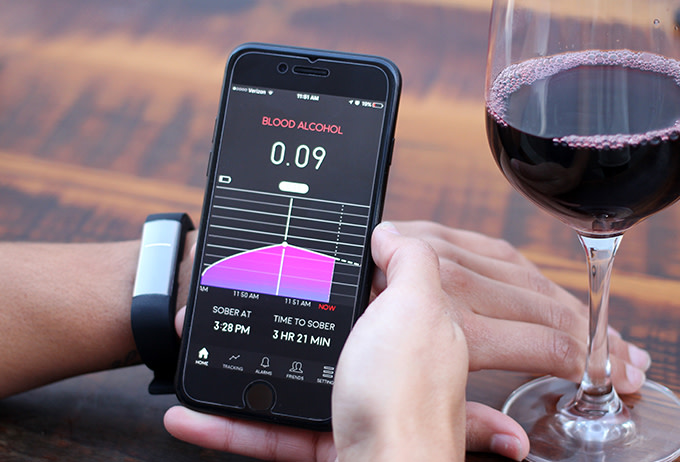 Looking further into its sensing technology, this unique wrist gadget comes with accurately reliable skin sensors which monitor at a rate of one data point per second resolution. To monitor alcohol levels accurately, the sensors picks up Enzymes that come from the molecules evaporated from your skin. These Enzymes are then used to convert the ethanol captured into electric signals. It is these electric signals that are then converted into an alcohol level that the user can view through the App. This technology is massive step forward, even for those of you who sometimes rely on breathalysers, which take up to 30 mins to read. Yet the PROOF gadget can update you instantly in Real-time.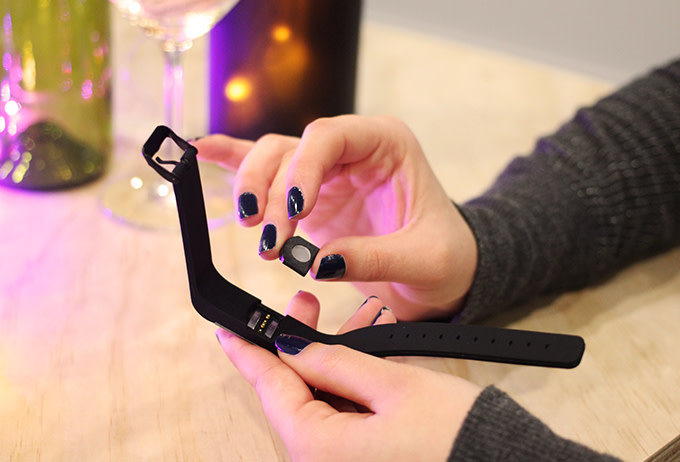 Make your PROOF work for you through Efficient Smart Alerting
Moving onto the 3rd Key feature of this wrist wearable piece of tech, and which is Smart Alerting. Smart Alerting is a functionality that runs through the constant synchronisation between the PROOF wearable device and your Smartphone App.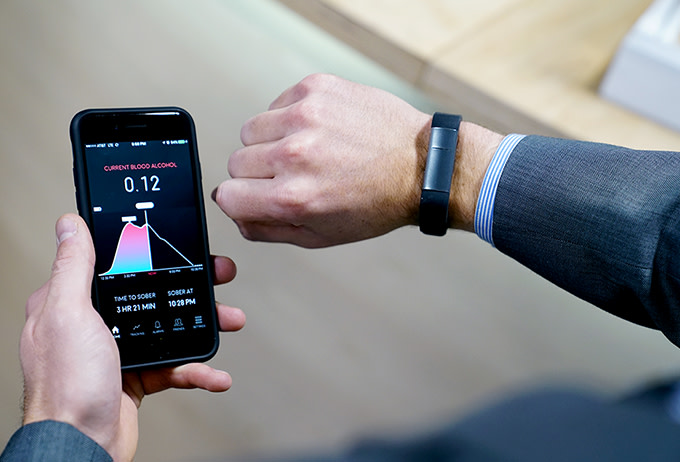 Smart alerting makes your PROOF wristband work smarter for you. What this means is that through staying connected to your Smart device, you can set Alerts for different elements in your Alcohol consumption levels. This includes being alerted for your chosen consumption limits, tracking your alcohol level throughout the day whether that is going up or down and if you feel like it, share it with your friends. This technology is promised to work seamlessly through providing you vibration alert with coloured LED flashing, whenever you reach a different limit.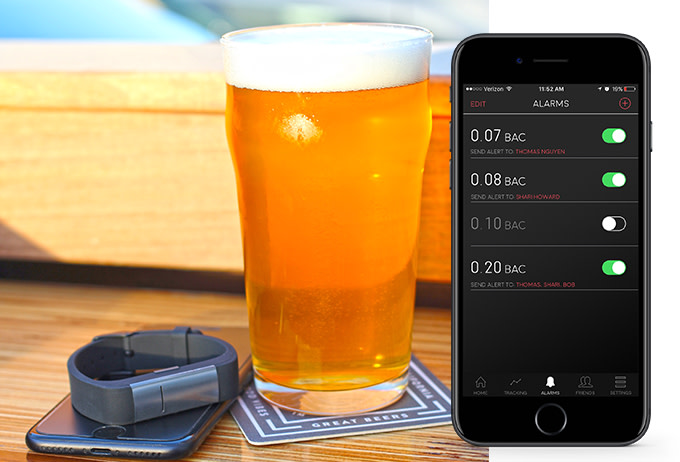 Unnoticeably Futuristic and Stylish 
Moving onto the general look and feel of this wrist gadget, I must say it is easy to mistake this wearable for an Activity Tracker. Having said that I believe that's what was expected of the Manufacturer of this product. They wanted to create a product which is not as obvious as some other Blood Alcohol Monitoring devices currently out in the market today.
Overall looking at the product and what it can do, I must say the design is unnoticeably futuristic and compact. The PROOF Wristband measures approximately 15mm in width and 21 grams in weight (which includes the weight of the Cartridge), which is extraordinary lightweight for a powerful gadget of this kind. The wristband is manufactured in Super soft silicone material combined with an Anodized aluminium cover.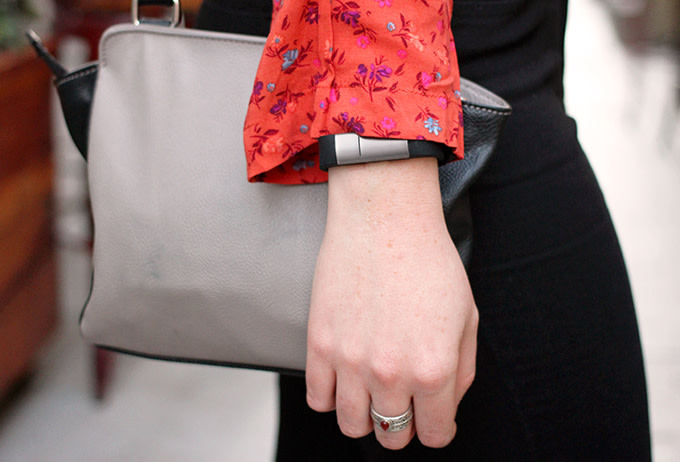 The disposable cartridge itself measures approximately 15mm in length, 14mm in width and 4.3mm in Height. In terms of electronics and battery life, this wrist gadget consists of a Multi-color LED, Vibration motor, Proprietary analog amplifier circuit and an enzymatic electrochemical sensor.
The device consists of a low energy Bluetooth 4.0 technology which allows the device to be connected wirelessly to both IOS & Android devices. In terms of Battery life, you can truly benefit from its long-lasting power of up to 4 days it delivers of a single charge. The battery is re-chargeable via USB.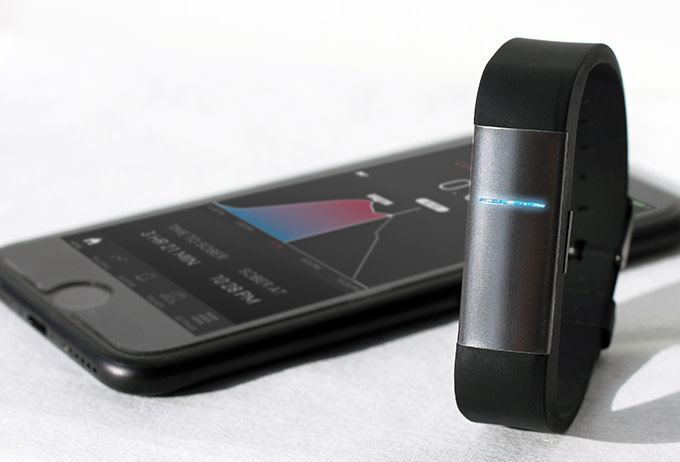 Conclusion
To summarise this unique wearable gadget, I must say this is another great example of how much technology is evolving today. The PROOF wristband is another one of the many wrist wearable Health gadgets that many people around the world can benefit from. This device also brings your Health and Wellbeing at the forefront. As we all know that Alcohol has some serious consequences on your health, especially if consumed far too often that we just find it too difficult to let go of it. With this wrist gadget, you can really change your Alcohol drinking habits, more conveniently and discreetly than ever before!
Further updates to this article will follow once the product has been launched fully and which will include a more extensive review on its usage, benefits and pros & cons.
Please comment below on how useful you found this article and what are your thoughts about this product, based on your own life experiences and what the product can potentially do for you in the future. Finally, I just like to say that if you enjoyed reading this article then you may also be interested in the LVL Hydration Monitor.