Did you ever dream of an Era where you could communicate with people in full privacy, even if you find yourself in a crowded place. Regardless of where you are and what you are doing you will be pleased to hear that this Era has finally come. Welcome to the Sgnl, the wrist strap that will let you communicate through your fingertips. That's right, Literally through your Fingertips!!
What is Sgnl?
So What is Sgnl? Lets find out!! Sgnl is the world's 1st Smart strap that allows you to use your Fingertips as a mobile phone. So if you ever thought Mr James Bond was the only one with cool tech like that. Think again! As this is now becoming a reality and will truly change the way we perceive today's age of communication to be. This unique wrist gadget is so magically futuristic, that it will become a must have gadget for everyone.
Some of the key features of this unique wrist wearable gadget include its ability to enable your Fingers to Answer phone calls, Listening Privacy & Voice Clarity, Watch Compatibility and the Sgnl Smartphone App.
Smart Strap that makes your Fingers your Secret Phone
Starting with the most ground breaking feature of the Sgnl Smart strap, once connected to your Smartphone via Bluetooth. Your wrist and fingers are empowered with the ability to take phone calls whenever your phone rings. This functionality works by sending the vibrations to your wrist via the Smart Strap which then flows from your finger to your fingertips, where it than converts into sound once you touch your Ear with your fingertips.
The innovative technology behind this magically enhanced gadget includes a Bio Conducting Unit, which is what triggers the strap to pick up the call via its Bluetooth capability an than generate the vibration that transmits through fingers to the fingertips.
Voice Calling Privacy and Clarity taken to a New Level
Moving forward, have you ever found yourself in a place or an awkward situation which you can't escape, yet need to take that urgent phone call. Well now you can as this smart gadget gives you the ability to Listen and have a full conversation without worrying about anyone else hearing you except yourself.
The Listening Privacy has been enhanced tremendously in this unique wrist wearable gadget, where it not only keeps your conversations private but maintains a sharp voice clarity as well. The element that enables this feature is the built-in Audio Algorithm, which amplifies the voice signals through to your fingertips to make the sound clearer when listening to the caller on the other end of the phone.
Enough said about how you listen to your caller when taking phone calls, but what about the other half. Well that is much easier. The Sgnl Smart strap consists of a built in microphone which is positioned in the closest area to where you would usually speak from, when answering phone calls. This part of the device works equally as good as the Listening feature, if not even better.
Make your Sgnl Smart strap become exceedingly Smarter
Just when you thought Voice conversations through your fingertips is all that the Smart strap can provide, then think again!! As this wrist gadget, is intelligently capable of doing a lot more for you than just answer phone calls.
The Sgnl Smart strap also comes with built in technology through which the wrist gadget is capable of Smart alerting, Activity Tracking and Call Reminding. This one feature brings to you, a whole range of additional functionalities which makes this device a truly revolutionary product. As the inventors of this smart gadget have really taken your expectations into full consideration, through the adaptive engineering used to develop such a unique wearable.
To benefit from this feature, Sgnl is powered by its very own Smartphone App (which will be available in both Android and iOS Smartphones).  The App allows you to enable Sgnl features on the Strap based on your preferences.
Taking you further into this feature I will give you more insight on additional functionalities that you can benefit from, through your Sgnl device: –
Call Reminder – If you ever see the need of setting reminders to call your loved ones, then you will be pleased to know that through the Sgnl App you are now able to do just that. The Sgnl device once paired with the App, will allow you to keep track of how frequently you call and get reminders in the form of nudges sent from the device. Which will now help you make or answer those important phone calls on
Activity Tracking – If you are ever feeling sporty or just want to keep fit & healthy, than the Smart strap Sgnl can help you do just that. The device comes with a built in pedometer which will keep track of all the steps you do and calories you burnt throughout the day, intelligently monitoring your workout patterns via the Sgnl App.
Smart Alert – The Sgnl device brings a unique twist to you with smart alerting. Now you can been rest assured you will have your Sgnl notify you of your incoming Calls, Texts, Emails and other notifications enabled on the Sgnl App. Smart Alerting will provide you notification alerts onto your Smart Strap in the form of Patterns, which you can choose to customise for different alerts. Now that's what I call simple and smart!!
Take your Sgnl to Adapt around your Lifestyle
Moving further, if you thought the functionality of such a device was extraordinary, wait till you hear about the Watch Compatibility creation. It will blow your mind off!! As it takes innovation to a whole new level.
The Sgnl smart strap has been constructed beautifully, keeping your flexibility in mind. This unique wrist gadget is the first wearable tech of its kind that can work for 3 types of users (Non – Watch Users, Classic Watch Users & Smart Watch Users).
One device that can now easily fit into the preference of the Watch that you wish to wear on the day and it is so easy to do, that you can change your preference everyday if you wish. What this means for the user is that, you will get ultimate flexibility on how you wish to use the Strap, as it is the strap that does the magic not the Watch you attach it to.
This concept has truly revolutionised the ongoing encounter that many people have, which is the thought of being restricted to just one watch on your wrist. This one feature makes this wrist gadget truly unique, as it is the first of its kind to be able to give you Smartwatch powers without wearing an actual Smartwatch. How crazy is that!! I let you decide.
Robust and Revolutionary Wearable ever Seen!
Moving into the look and feel, I must say that the manufacturers of Sgnl have elegantly designed this product making it both fashionable and smart together. The Smart Strap measures 24mm in width and comes in a range of 6 different colours, which include Black, Navy Blue, White, Grey, Brown and Green.
The Sgnl Smart strap also comes fully loaded with hardware features, which enables you to make the most of this unique wrist wearable gadget. Some of the key Hardware elements built into the device includes a Function Button and the Bio Conducting Unit. The device also comes with numerous key components both on top and on the side of the smart strap (this includes Volume Up / Down, Microphone, Do Not Disturb Mode and the LED's on the strap.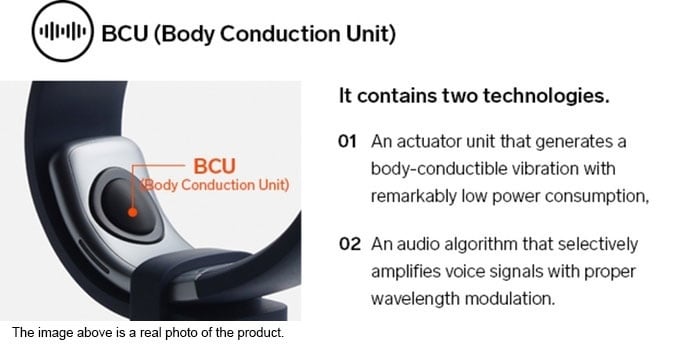 In terms of compatibility the device is capable of providing you the flexibility of working with Android OS 4.4 or newer and a iOS 8 or newer. Sgnl includes a built-in battery that offers 7 days in standby and 4 hours in talk time. On this point I would also like to mention that this wrist gadget only requires 1 hour of charging time via Micro USB, which is amazingly a short period of time for a wrist wearable gadget such as this.
The portable wrist gadget also includes the BT / Bluetooth Low Energy technology, which enables the connection to the Smartphone and triggers the communication through the device. When it comes to water sports you can be rest assured that you now have the freedom with Sgnl, as the product has an IP56 Certified grade of water proofing.
Finally I would like to say that the smart strap comes with a Watch Lug, that enables you to switch your strap between 3 different setups on your wrist. This includes Classic Watch (18 – 24mm Lug) and Smart Watch (includes Samsung Gear, Apple Watch, Pebble, etc).
Conclusion
To summarise this unique Wrist Gadget, I would say that this product is magically ground-breaking in technology. Another wrist wearable device that truly changes our perception on how far science & technology is evolving. My view on this smart wearable tech, is that the inventors have very intelligently designed a product that delivers a solution to a growing problem many people will experience as we move from the times of Smartphones to times of Smartwatches. I can already see this as a must have wearable gadget for everyone that like to keep up with the latest tech and keep up with their fashion at the same time.
The product is currently under development and is now phasing towards Beta testing, with the view to release the product late 2018, however if this sounds like a gadget you can benefit from then pre-order yours now on Kickstarter and Indiegogo . In the meantime if you like to find out more about this unique Wrist Gadget then please click here.
Further updates to this article will follow once the product has been launched and which will include a more extensive review on its usage, benefits and pros & cons.
Please comment below on how useful you found this article. Also if you enjoyed reading this article then you may also be interested in the AirCon Watch.